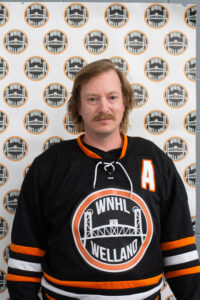 #

81

Current Team

Lincoln Street Legends

Past Teams

Townline Tunnelers, Welland Undertakers
After finding out how sweet victory tastes out of the King Street Cup, CBoz is ready for season three. Champion of the 'vape to tape' pass, he has earned his keep as not only one of the skilled forces in the WNHL, but also a gentleman in a gentleman's game. After playing the last year with his brother, the storyline this draft revolves around whether or not they will skate again, or whether they will have to part ways and enter into hostile territory.
Wednesday Night Hockey League
| Season | Team | P | G | A | S% | SV% | GP |
| --- | --- | --- | --- | --- | --- | --- | --- |
| 2020-2021 | Lincoln Street Legends | 4 | 3 | 1 | 0 | 0 | 6 |
| 2019-2020 | Townline Tunnelers | 29 | 17 | 12 | 0 | 0 | 26 |
| 2017-2018 | Welland Undertakers | 29 | 14 | 15 | 0 | 0 | 25 |
| 2018-2019 | Townline Tunnelers | 22 | 13 | 9 | 0 | 0 | 23 |