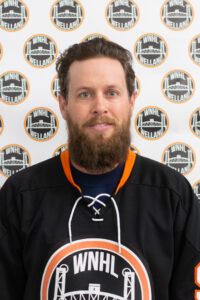 #

91

Current Team

Lincoln Street Legends

Past Teams

Atlas Steelers, Crown Room Kings, Merritt Islanders, Welland Undertakers
Donaldson is coming off of an important year, which saw him bring home the King St. Cup (though we will choose not to believe reports of weird things done with it). This year, however, he faces the challenge of potentially being separated from his coach, friend, and teacher Cockell. A storyline that could stretch into a season itself, it will be interesting to see whether or not the Dman/Cman combo lives on, or whether Cockell will have to find someone else to, in the words of Paul Simon, 'call me Al'.
Wednesday Night Hockey League
| Season | Team | P | G | A | S% | SV% | GP |
| --- | --- | --- | --- | --- | --- | --- | --- |
| 2020-2021 | Merritt Islanders | 8 | 5 | 3 | 0 | 0 | 11 |
| 2019-2020 | Merritt Islanders | 32 | 15 | 17 | 0 | 0 | 25 |
| 2017-2018 | Welland Undertakers | 39 | 11 | 28 | 0 | 0 | 25 |
| 2021-2022 | Lincoln Street Legends | 12 | 2 | 10 | 0 | 0 | 28 |
| 2018-2019 | Atlas Steelers | 40 | 16 | 24 | 0 | 0 | 23 |